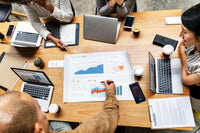 Professional Economic Analysis
Lets face it, keeping up with global financial trends is a full-time job and your typical financial firms charge high fees for mass produced results. Most people were hurt in the previous recessions, the so called experts didn't see it coming while a few capitalized on it. We provide research information in a condensed form so you can make well informed decisions in an ever accelerating world.
For a Limited Time Only
40% Discount
FREE Macro Trends Newsletter
FREE Trading Academy
FREE Charting Software/Indicators
Invitation To The Elite MMG Members Group
and More...
MMGinvest Channel
Free Market and Economic Analysis
Testimonials
I found your channel last Christmas and I have to say that you have an uncanny ability to interpret these markets. I don't know how you do it but your trading analysis is the most reliable I've ever seen. Thanks for the constant updates!!

Andie Messier
Great channel found u only a couple of months back and u have by FAR the most intricate AND all encompassing knowledge of markets... I listen to very few others now. Amazing work Lazslo and merry Xmas from here in the UK. Thanks !!

James Walker
Thanks for all of the hard work you put in. It's the TA and the realistic commentary about the markets I like. Have a great 2019!

Donnie Bravo
following your channel(s) for over a year. thanks for all of the great updates and insight. I watch ever second of your content.

RJZII
Sir! I like your videos very much! Very educating and honest. To watch a live video and being able to ask You a question direct in the chat is much appreciated! Greetings from Europe. 👍

Kasso
Great channel dude, just started watching and you seem to be one of the few people who isn't viewing everything through rose colored glasses. I really appreciate your insight, thank you for what you're doing! Merry Christmas

Weston Fink
Quality vs Quantity and creating good Karma. Thanks for all your time and teaching Laszlo All the best in the New Year! I knew nothing of charts until I started following this channel.

Dave Tech
I really enjoy the high quality macro and also to see how a good trader thinks Keep up =)

Raphael Yoshiga
Add customer reviews and testimonials to showcase your store's happy customers.

Author's name
MMG Research Report and Trading Academy